Product checker app
Concept design
Concept design
Click on the Product Checker Screen to try the click dummy: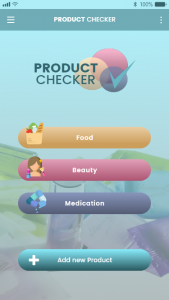 This concept for a native application was developed with the idea in mind that people too often are lavish with their products and often forgot about the date when they opened a product. This app is just an approach of a product vision and might be developed later on.
To understand my user context I would conduct user research to learn about my stakeholders. I would conduct on basis of quantitative and qualitative data methods the behavior of my target audience. The results would help me to make the right decision to create a good user experience. The personas should be created based on those facts. Usability tests are the right solutions to test iterations later on.
.
User goal
An app that users help about keeping an overview of their products and help to avoid frustrations and a better feeling by using the products.
.
Business goal
I would provide a free trial package for potential customers and offering beneficial features to catch 20% of users afterward as paid subscribers.
Webdesign
Sitemaps, Wireframes and Mock-ups
Illustrations
Concept-Art, adventure screens, character design